I remember the moment when I first got my Panasonic GH4, feeling amazed that it shot 4K without breaking the bank, but also:  freaked out!  It felt like the beginning of the end for me shooting HD, and sure enough, about a year later, I got fully converted.  My whole workflow now is just Ultra-HD (that's a few insignificant horizontal pixels shy of cinema 4K resolution), even though I'm usually delivering output in HD.  So, it was one of those moments, of no turning back, 4K or bust, innocence lost.  Mixed emotions!
Today Atomos announces its Shogun Flame and Ninja Flame 4K HDR monitor/recorders.  Just like the GH4, you can call this another turning point, because Atomos is a company that makes things for everyone, not just rental houses and moneyed studios.  The Shogun Flame is up for pre-order now at $1,695, also the Ninja Flame at $1,295, and they're both slated to ship March 28th, including a full kit of accessories in a hard case just like the launch of the original Shogun — but sooner.  Welcome to the front end of HDR.
Unlike 4K resolution, which was an easy upgrade to grasp (just quadruple the dots of HD), high dynamic range (HDR) video is a much more complicated transition:  partly, because most of us already have it, and either we aren't aware, or we're confused about how to deliver it.  But words speak for themselves, and HDR is just what it says:  a higher range between the brightest and the darkest in your camera footage, generally 10 or more "stops."  So, these days we're accustomed to cameras boasting how many stops of dynamic range they can capture, even if the measurement is pretty arbitrary between one manufacturer and the next.  One thing's for sure:  the more, the better.  And also:  it's only relevant (for now) when you're shooting in some brand of film log format, which basically squeezes the brightest and the darkest parts of an image into the gooey middle range of an image's brightness and saturation, making it look "flat" and dull.  Sony calls it S-Log2 and S-Log3, Canon calls it C-Log, Panasonic calls it V-Log, Blackmagic simply calls it Film, and so on.  As we know, it's only in post-production, back at the studio, where the flat log footage expands back out into the so-called REC.709 video format that's ready-to-watch on a television or digital projector.
That is, until recently.  Sony started baking into their cameras a "Gamma Assist" function, so that even though it's recording those gooey log images internally, you can see an approximate viewfinder preview of the final result as it would look after post-production color grading.  That's really important when it comes to judging exposure, managing color influences while you have the chance, and your overall composition as a cinematographer.  We aren't goofing around here!  Meanwhile, for those of us with Shoguns, Atomos last year made good on their promise to release a free firmware update that lets us apply our own look-up tables (LUTs), just like "Gamma Assist," for previewing the real thing.
I mean, think about it:  when historic/legendary cinematographers peered into Panavision cameras (not today's mirrorless OLED viewfinders at best), they saw the real world.  That's important!  And our own eyes see HDR, on steroids.  We deserve something closer to that, whether on location or back in the studio.
Focusing on the moment of acquisition, Atomos is setting us up for HDR with these new Flame monitors that add three crucial specs:
Brightness capability of 1500 nits
10-bit color accuracy, resolving 1.07 billion colors (compared to only 16.7 million colors on the prior Shogun and Ninja Assassin 8-bit panels)
"AtomHDR" engine to render HDR output in a live view
Here's the catch:  Atomos can't solve your need for HDR farther down the road.  That is, their Flames will show you HDR on their monitors, as their prior ones couldn't, but they'll still just record whatever log footage you capture, the same as always, straight-to-disk.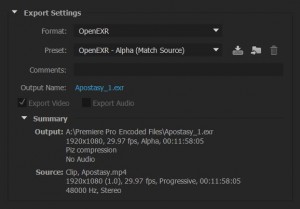 So, it's up to you once you're back at the studio to figure out how to preserve all that detail being captured in log.  Normally, whatever LUT you're using (e.g., FilmConvert) expands your log footage only into the narrow confines of the REC.709 color space, which limits dynamic range to "legal" levels that historically trace back to cathode ray tubes!  Whereas, for example, the latest version of Adobe Premiere has begun to incorporate HDR into the workflow, offering so far an output format you might notice in Adobe Media Encoder called OpenEXR (seen at right).  Meanwhile, when it comes to ultimately viewing the expanded dynamic range of HDR encoded content, there are — surprise, surprise — competing standards between HDR10 and Dolby Vision, sort of like HD-DVD versus Blu-Ray being technically similar but the former more widely adopted in HDR televisions for now.  At home, I have a Sony XBR X850C panel with HDR capability that arrived from a firmware update mid-way into the product's seasonal life.  Going forward, most HDTV panels will include HDR capability — that was the moneyball at CES — but standards are still in flux.  It's daunting and yet exciting to consider that everything you ever recorded in log can someday get upgraded to a render in HDR, as if this delivery technology existed all along.  Archive everything carefully?
Back to the Flames, if you're like me, you might have felt underwhelmed initially by the news that they're fundamentally an upgrade to an already best-in-class 7-inch monitor.  But Atomos has clearly treated this re-boot as an occasion to respect customer feedback in some key areas.  Their new design checks off a lot of the boxes that I complained about in my review of the Shogun Action Pack.  Their Armor was a rubbery loose fit on the Shogun and Ninja Assassin, but now it's an integrally tight part of the Flame chassis.  It used to be that the Atomos Sun Hood posed an either/or dilemma, because you couldn't mount it at the same time as the Armor; it's not a problem anymore on the Flames, adding a "snap-fast" feature instead of screws you could lose — and the Sun Hood is included for free!  At that, if you're shooting without the intention to monitor in HDR, you can flip over to a traditional video mode (REC.709) and get the full 1,500-nit brightness capability of the new Flames for outdoor shooting that has a fighting chance against sunlight, hood or no hood.
Between the Shogun and Ninja versions of the Flame, the differences are parallel to their predecessors:  the Ninja Flame lacks XLR balanced audio inputs, SDI inputs, and raw recording capability from select cameras, but you save some money too.  But both have an upgraded approach to power, addressing a key concern in the battery-hungry original Shogun and Ninja Assassin design, by adding a second battery slot to facilitate longer uninterrupted sessions and hot-swapping.  It's like they incorporated their Power Station that I reviewed here previously, finding that it added too much bulk as a piggybacked accessory onto the Shogun/Ninja Assassin.  The Flame design effectively incorporates the best of the Power Station, at no extra cost.
Speaking of which, we're talking about Atomos here.  This is the company from down under (relative to where I am, anyway) who shipped the Shogun with tons of accessories that we're used to getting gouged for when it comes to cameras, etc.  They never charged for firmware updates, and kept them coming.  They even shipped out free batteries when folks inevitably complained about the included one dying too soon.  I know, you don't want to penny-pinch when it comes to production of important art/media, but at a time when the costs of gear are soaring into cynical opportunism (say, $2k lenses and bloggers getting flown all over the place to drool), Atomos is sending a message.  But mainly, it's this:  HDR is here, and it's for the masses.