It's a well-traveled theme that the worlds of still photography, and filmmaking/videography, are converging. Another way to say this is: the same cameras that snap still pictures are also shooting cinematic videos, and professionals who used to do just one thing, are expected to do both. And something else: cameras keep getting smaller — just one effect of becoming a "mirrorless camera." That means there's no optical prism at the top of the body, to bend light through-the-lens, for delivery to an optical viewfinder. We've gone all-digital, and smaller, and there's no turning back.  Even for my highest-quality video work, I still find myself stuck in the miniature mirrorless world (something I complained about recently), since the relatively tiny Sony a7S II remains the only attainable and credible full-frame video image capture device.
This article is the result of thinking hard about how our traditional way to keep shots steady — using a tripod ("sticks") and an attached video head — has been slow to keep up with these new realities, especially with so much of the load being carried by ubiquitous ultra-portable 3-axis gimbal stabilizers.  So I've spent a lot of time evaluating gear, and shooting numerous pictures here, to draw some conclusions.  Hope they're helpful.
IDENTIFYING THE PROBLEM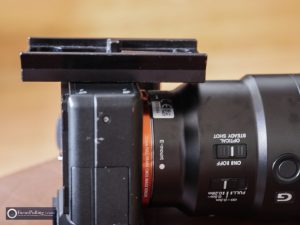 Good video tripod systems have always been oriented "long-wise" because camcorders are longer than they are wide.  Of course, the so-called "digital SLR" is just the opposite:  wider than long (and much smaller).  Everything starts from what you screw into your camera, and since we all go back-and-forth between staying locked down on sticks, and moving around (or packing up), the "quick-release" plate is everything.  For video, there's a leader in the field:  Manfrotto's 501 and 701 standard.  As seen here, clearly it's designed for that old paradigm of longer-than-wide camcorders, and when you screw it into a typical digital camera, it's doing everything wrong.  It's hanging out the back and it's bumping up against the lens out front.  That front overhang often interferes badly with the ability to make manual lens adjustments (iris, focus) and sometimes even totally prevents the attachment of any lens with a large diameter.  There's got to be a better way.
Arca Swiss has managed to become a better-suited runner-up, but it's still just a little too big, less firm — and there are too many off-spec variants to make it ideal and reliable.  That's why I found the below surprise from the photography world to be so promising:  here's a picture of a plate that really does fit within the dimensions of a mirrorless camera's underbelly.
KPS GIMBALL HEAD
KPS makes ball heads that mostly service the needs of high-end still photographers, who want durability and precision, while adding a "GimBall" feature that's easily confused with "Steadicam" gimbal stabilizers.  This use of the term gimbal refers to the multi-axis ability to freely orient a camera on a heavy-duty ball with adjustable, smooth tension, while also being able to lock down an axis so that the motion only happens along one axis.
To accomplish this, there are pins removable from in-housing storage as seen in the pictures below which insert through the ball, along an axis, and into the other side of the housing, thumb-screwed in.  Although it's not physically a true fluid head, for video movement it's surprisingly smooth — and despite being a ball head, it becomes a way to simulate a typical video tripod head that lets you tilt up-and-down without losing your level horizon, while also giving you a reasonably fluid left-and-right panning capability (note the measurements at the base of the head, and the smaller knob that controls tension).  This is something that a typical photography ball head can't do.
And while it qualifies as a competent smooth video head (and even has available an optional video panning extension arm), the big appeal to me is that tiny mounting plate, which keeps a small profile suited for my mirrorless cameras like the a7S II and GH4.  Size isn't everything when it comes to strength:  as seen in the further pictures below, its grip from both sides is extremely solid, as its clever design pinches using the very solid large lever you see, with a half-twist pin that locks the "vice grip" into position.  You can also see that the grip tension is fully adjustable, while I found that it thankfully didn't drift over time and the strength stayed calibrated.
In this last set of pictures, you can see how there are handy bubble levels for X- and Y-axis precision.  Having them next to each other, located central to the mounting point itself, is an essential tool that surprisingly doesn't show up on most tripod heads, even though it becomes critically important as soon as you start panning around, trying to keep your horizon level.  This also becomes important for video moves beyond a typical static set of tripod sticks, where tripod heads are lately also used for other kinds of stabilizers like sliders and jibs.  It's far from ideal to put a typical (and large) video tripod head onto a slider — or onto a Glidearm as pictured here, which is the next evolution in slider technology (my review coming soon) — and although the KPS isn't the lightest and smallest you can mount, it strikes a right balance, and importantly doesn't have a big affixed extension arm sticking out, getting in the way of moves and throwing-off balance.
As a specialty item, the KPS GimBall heads aren't cheap — this version, the G5, costs $300 — but like home audio speakers, a solid bicycle, and stuff like that, this is not a technology that changes every week, so investing in a good solution that lasts many years is part of the long game.  KPS products are sold exclusively in the United States through LegioPhoto.com, a veteran-owned family business with great customer service.
BUT THERE'S ALWAYS MANFROTTO
The goal is to keep everything as portable as possible, staying true to the nature of mirrorless cameras (and hoping to be able to throw everything into a single backpack).  The evolution of ball heads for video use, like the KPS GimBalls, has become a new favorite, but there are still applications where I need a video-purposed tripod system, with interchangeability of those misshaped universal Manfrotto plates, and traditional panning/tilting capability with a long extension arms to make the smoothest moves.  In that case, it's come down to two options for me.
What I've been using for years still holds the crown:  Manfrotto's reigning best video head is by far is their MVH500AH, pictured up top attached to a four-segment carbon fiber tripod (that Vanguard sadly stopped making and never replaced).  The whole thing just barely fits inside a photography backpack, without having to be strapped onto the outside like anything else on the market, yet it behaves like a truly high-end professional tripod system.  I also really love its innovative quick-release solution of flipping a latch, as pictured below, to tilt in and lock down the plate.  Strangely, Manfrotto stopped including that feature on newer models, but it's a huge time-saver (and avoids the curse of protrusions getting in the way of slide-in-plate heads).  Three further pictures below show how my a7S II is a good match for the Manfrotto, and can slide forward and backward to adjust the center of gravity — with a long lens, that's admittedly something a ball head can't do.
But what about that other tripod seen above, just a little smaller than the Vanguard/Manfrotto combo?  That's Manfrotto's newest "travel" tripod, in their BeFree product line (that never used to contend with serious work).  This new BeFree Live Fluid Video Kit comes closest to balancing all these compromises.  It's got aluminum legs that are less rigid, and heavier, than carbon fiber sticks, but it incorporates the very rare feature of a different kind of "ball head," seen at left, which is really just a way to slightly adjust the plane of the platform for the principal screw-in head.  This is a common feature on gigantically heavy and high-priced tripods (e.g., Sachtler's bowls), and avoids the awful practice of having to repeatedly adjust the length of each tripod leg until you think you've got it level on the horizon.
Speaking of legs, my one big complaint about the BeFree Live is the way that its protracted legs — normally folded up against the head — get locked into position after folding out below.  Those gray twist-knobs you see at right are cheap-plastic, light-feeling and very loose:  they are meant to solidly put the legs into three states — protracted up into storage, normally spread out below, or widely spread out below for low shots.  
In each position, the knobs struggle to find their respective notches, and the way that they're molded for human hands is even worse than primitive screw wingnuts from a hardware store — hard to grip and keep a hold on.  What were they thinking?
As for the head, as seen below it uses the standard 501/701 Manfrotto plate, which looks comically outsized on such a petite product, but it holds tight.  The fluid action is mediocre, but an adequate trade-off for its size.  Ultimately it performs poorer than my above preferred kit that's only a little bigger, but the BeFree Live is also economical at just over $200, so there's that.
MINI LIGHT STAND:  SERIOUSLY?
But what if you need to go even smaller, and pack even lighter?  For those emergency situations (or vacationing at peace without any argument about lugging around too much gear!), consider the further size difference between the petite BeFree Live kit, and this tiny Manfrotto stand that's actually designed for small lights.
There's less hope mounting a traditional video pan head onto that little thing; but as seen at right, this circles back to the KPS which locates all of its weight close to the center of gravity, making it reasonable paired with the tiny light stand to suffice for an ultra-portable quick setup (taking care not to let it knock over with such a small footprint).  I also use this configuration to lock down a Blackmagic Pocket Cinema Camera or GH4 that won't be attended anyway during multi-camera shoots, and just needs to sit still pointing at something.
MANIC PIXI EVO DREAM GIRL
Finally, for something literally pocketable, there's this little thing with the quirky name Pixi Evo.  It hits all the right notes, with a quick-thumbscrew mounting platform attached to a ball head, and legs that not only telescope out into a further segment, but also have two spread settings for versatility (and heavier cameras).  Naturally, you can't pull off any motion with this thing, but something's better than nothing.  An extra bonus use for the Manic Pixi Evo Dream Girl is to be a single-grip handle when you don't have a Steadicam-type device handy, and are — heaven forbid — walking around vlogging yourself.  But please don't.