PFY Focus
Technical Specs

Performance

Value for Money
To name this whole site FocusPulling.com, implies that focus pulling products are an automatic inspiration here! But it was mainly inspired by the visceral reality of being a cinematographer: if there's one thing that keeps our nerves and synapses constantly engaged, while cameras roll, it's focus pulling. Especially at high resolutions, you just can't miss a beat. As we learned in film school (or the real world), if you get great footage but the subject isn't in focus, you just can't use it.
Apart from typical monitoring aids — how could we possibly live without the glitter of focus peaking? — physical hardware like follow focus products are a mixed bag. At first, it seems surprising how few you'll find on the market. I currently own a Zacuto Z-Drive, which has a unique angular design that reminds me how gimbal stabilizers are finally pivoting out of the way, so that you can see rear viewfinders. Before that, I used a budget product from D|Focus who are sadly out of business. You're probably like me: among all your lenses, only a few are actual, legit cine lenses with built-on gears. The rest are so-called "focus-by-wire" and they aren't precise: they spin in an endless circle one way or the other, and they pull focus quicker or slower depending on how fast you turn the barrel, even across the same circumference. This isn't necessarily a bad thing — the creative decision whether to whip-focus, or to slowly rack, is central to our visual vernacular — but sometimes you need reliable, unchanging focus points that have an actual, physical correlation with the notches of your focus barrel. And of course, a follow focus mechanism gives you ergonomic flexibility, putting your hands where you need them quickest.
Active, native lenses that "focus by wire" are still compatible with follow focus products, but it's hard to mark off focus points (to always return to the same physical spot) if you can't mathematically change focus at the exact same speed. But: motors can. And if you need to control focus remotely, or at least farther than a finger's reach (let alone, across a room), motors are the only way. That's where this new breed of wireless follow focus control comes in. When they first arrived to market, they were luxury items: you really had to need it, and have a lot of money, to justify the expense. But in the past year or two, they became amazingly affordable.
The latest and most feature-packed option we have today is the PFY Focus. PFY is a German company that branched off from Pilotfly, and they primarily "focus" (pun intended) on wireless follow focus, wireless video monitoring, and gimbal stabilizers (check out their website). And recently, a guest reviewer here had a look at their tiny PFY Voice microphone. At around $250, this PFY Focus comes highly recommended.
As seen above, I'm pairing the PFY Focus with my Blackmagic Pocket Cinema Camera 4K. You can see it almost fully rigged out around a Rokinon cine lens, with a Smallrig cage, and a Tilta battery sled that I'll get to in a minute. But first, let's see what comes with this thing. At right, you can see the octopus of cables that comes in one of the included semi-hard shell zipper cases, beside a gear ring that gets you started on one lens. There are mainly two types of cables: power options, and camera control options, for various formats. You can do simple start/stop, shutter, and servo zoom control to many Sony, Panasonic and Canon cameras; and you can supply DC power in a variety of ways including D-Tap, and coaxial barrel connectors.
This last part — needing another power source — is a potential deal-breaker for some, but it shouldn't have to be. As cinema cameras (even tiny ones like my new Z CAM) increasingly are modular, auxiliary power is becoming a way of life. The PFY Focus gear drive requires external power (it doesn't have room for internal batteries), but these days, so does your camera: I was using a battery sled for my BMPCC4K by necessity anyway, screwed down to its cage, but then you need multiple outputs and voltages to combine these products.
That's why the only product on the market that I recommend (and really, that I could find) is this Tilta adapter seen here, which takes standard Sony NP-F "L-series" batteries, and outputs both 7.4 VDC and 12 VDC using your own choice of cables. There's nothing else on the market like it, and ironically it's from the manufacturer of a competing budget wireless follow focus (Nucleus-Nano) which lacks certain features compared to the PFY Focus (e.g., camera control).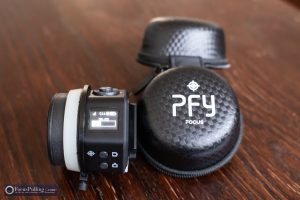 So, that covers the motor unit, and you can see it above being mounted over the cine lens gears using an included carbon fiber 15mm rod that can fix onto either a standard hotshoe, or directly to a cage. But one of the main features of this product is wireless control, and that comes in a separate included case, seen at left. It has a bright OLED display that's easy to see outdoors, and it has a reasonably simple menu system to perform setup and calibration, to begin with. Thankfully, it has an internal battery that lasts a long time, because it doesn't have to do heavy lifting like the focus motor, and it can be recharged using the Micro-USB port seen below-left. You can also see the momentary zoom toggle, which has limited utility unless you have a servo zoom lens attached — pretty rare, though I use my Sony 28-135mm servo cine lens from time to time, while also, Sony's Clear Image Zoom technology can be controlled this way too on even prime lenses. Finally, you can see a quick release rail used to the lock the control into place, via an included connector that mounts onto rosettes or basic 1/4″-20 sockets.
Also seen above, in the middle picture, is the OLED display showing how far the focus has traveled, wireless signal strength, battery life remaining, and programming ID. There's a thumb-dial controller, along with still picture and video shutter controls. And you can see screw-down focus mark stoppers, that you can fix to correspond with limits of foreground and background that you can specify before rolling camera on a planned shot (same for "virtual" digital focus points in the alternative). It's surprisingly accurate after you run proper calibration, as seen in the flowchart of PFY's guide linked here. There are "hot keys" that you can assign to features like motor torque or motor speed, and the ability to assign more than two focus points, such as A-B-C-D with independent settings between each range.
I got decent range with this product, via the antenna seen at right (next to the focus motor's power input), reaching a floor above, and certainly enough for my typical usage of managing a remote camera during live music concerts where I can pull focus on a B-camera across the stage, while I'm operating an A-camera up front. (Indeed, as a follow-up to this review, I'll be creating a more thorough guide after incorporating PFY's Eagle Eye wireless video transmitter, as a top-to-bottom remote control solution.)
PFY is a small company but appears to be committed to customer support, and ongoing firmware updates as may be necessary using the port seen at left. I hope that more cameras will be added to their compatibility list, for button control of basic functions, in harmony with Eagle Eye's own wireless video control. And in general, I'm also hoping for greater availability of affordable cinema lenses by lens manufacturers, not only for their barrel gears, but also for the critical feature of parfocal operation (where a zoom lens doesn't drift focus while focal length changes), along with direct mechanical focus control as an alternative to focus-by-wire even on native/active lenses. For way too long, greedy lens manufacturers have just been throwing old consumer-grade product lines into new packaging at quadruple mark-ups to make easy money (looking at you, Tokina/Sigma/Xeen), instead of carefully designing genuine cine lenses that would still take advantage of active features like in-lens image stabilization and aperture control. Who said cine lenses have to be dumb?