Sokani X100 Bi-Color Light
Technical Specs

Performance

Value for Money
I became a fan of Sokani lights after their X60 line, starting with their improved X60 V2 in a single daylight color temperature, to their X60 RGB full-color-spectrum light. Now with the X100, they've come full-circle with a bi-color model that adds more improvements, casting even stronger lumens. I'm comparing this X100 with my Aputure 100x, another 100-watt, bi-color LED light with a Bowens mount too, costing almost $100 more. At the 5600K color temperature, from 1 meter away, the X100 outputs 3070 lux without any reflector – by comparison, the Aputure 100x outputs 3700 lux. So on that spec, it looks like a pretty close call. They have roughly the same color accuracy rating (CRI >96), too.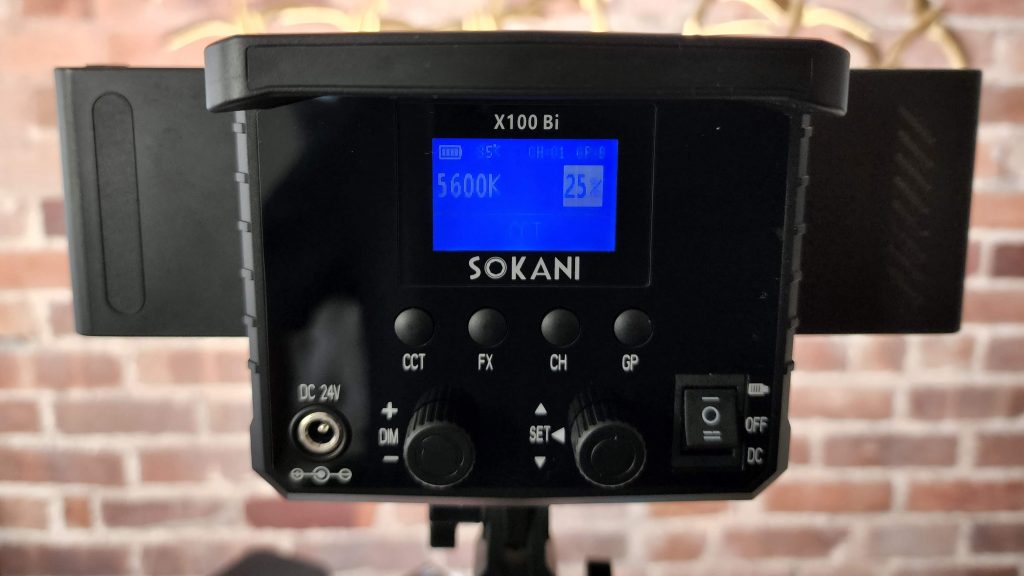 But the X100 has a wider color range, from 2800K to 10000K. And it adds an invaluable option: to receive power from batteries, mounted right onto the product. There are two battery slots, one on each side, for Sony NP-F such as the biggest available that you see in my pictures here (NP-F970 equivalent). To be clear, even with those maximum-sized batteries, you still won't get much more than a few minutes at full brightness, but this is a nice feature to have for those rare occasions when you don't have access to an AC power outlet. (In my tests, I found that unfortunately if one of the two batteries is weak but the other at full capacity, the whole light shuts off anyway.)
The good news is, Sokani provides a full 24V 5A AC adapter, packed inside a padded canvas case that holds the X100 along with a Bowens-mount reflector. You can control multiple Sokani lights with their free smartphone app called "SS LED," including activation of various FX that I don't anticipate ever using – but you can also control everything from rear-panel buttons on the light itself. I like the solid black design, spared of any toy-like bright red or blue colors, keeping my set looking professional.
Overall, this is a great addition to the marketplace and it is more competitive than the other options I've seen. As of mid-2022, there is no equivalent product on the market below $200 that combines the on-board option for battery power, with this full CCT color temperature range, and output over 3000 lux.  Since portability and low cost is what distinguishes this product, I found a match in the perfect lighting stand for it, manufactured by Impact and sold for as little as $100. Its best feature is that it combines light stand and boom, with a mounting hole at the end so you can attach a counterweight. Impact includes a saddle bag that you can throw anything into for adding weight, like other batteries you brought with you, or bottles of water that you'll be drinking when you pack up anyway.
The stand has a big knob to tighten the angle that doesn't slip, and its magic trick is that the boom arm telescopes down into the vertical light stand! So you can skip the boom part if you don't need it, and the stand adapter at the end can point straight up.
It's reasonably small at 45 inches collapsed, but it can get up to 13 feet. For packing everything up but keeping to a low budget, there's also a great padded bag that fits the stand perfectly from Ruggard costing under $60, way below anything else I could find. It's perfect for holding the light stand, and also the diffuser that we're adding to this kit.
For that, a light like this almost always has a standard so-called Bowen mount, and it's just one latch with three sort of teeth that you insert and twist in to lock. What I've hooked on is the Aputure Lantern; at under $90, it's the perfect pairing with this light. Acting like a so-called "China ball" or paper lantern, it provides very soft light with wide diffusion, and it's often used overhead which makes that combo boom stand come in handy. My favorite feature is how it instantly sets up and breaks down: you just latch one center support loop into a hook that you can see peeking down into the bottom below, and those pre-installed "ribs" on the sides just warp into position. It literally takes about 5 seconds, and when collapsed, it's nice and small, so we can fit it into that same Impact bag, even though it comes with its own.
You can see more uses of the light in Aputure's own advertising video below, often overhead and often using black skirts that are also included to narrow down the light radius. But you can still mount it facing forward like a typical soft box for interviews too.