Seeming like they skipped a year, Blackmagic Design stole the show at NAB 2015, which kicked off today with their press conference (and a few strung spoiler banners the night before), announcing new cameras that aim to be as revolutionary as their Pocket Cinema Camera and their flagship wedge thingie you couldn't hand-hold. Countless blog posts/Tweets/Facebook posts have reported on the basic specs already; and now, away from that frenzy of the convention floor, it's time to process it all. In no particular order, this write-up tries to fill the gaps (not wasting your time with what's already been said, at the usual bigger sources).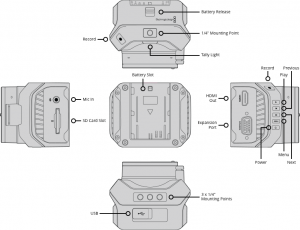 THERE'S NO DISPLAY ON THE MICRO CAMERAS
Gotta start with this: I hope everyone realizes, the Micro cams do not have any integrated display! I've seen a ton of coverage today, but the issue never came up (as an "obvious" matter, yet still). It's no small thing, because the Micro Cinema and Studio cameras are getting launched with presumptions about you: that you've already got an external monitor to hook in, and/or you've got a switcher/wireless transmitter to feed the camera signal somewhere else for monitoring/recording. The Micro Cinema Camera records internally to SD card media, while the Micro Studio Camera doesn't — yet the lowest common denominator is that you still need a monitor/viewfinder: to pull focus, frame your shot, adjust exposure, etc. How will this play out during a shoot? Well, I've got an Atomos Shogun, and I could see myself temporarily plugging it into the Micro Cinema Camera to get everything set at a B-camera location, then re-mount the Shogun onto my A-camera before everything starts rolling. Or, I could pair the Shogun with the Micro Studio Camera on a brushless motorized gimbal stabilizer. But I could also see myself being in too much of a hurry for all that, and resorting to my trusty old Blackmagic Pocket Cinema Camera which is an all-in-one solution. It depends. But these new Micro cams aren't out-of-the-box ready for shooting, that's for sure.
IT'S UNCLEAR HOW THE NEW MICRO SENSORS WILL PERFORM
Blackmagic has conversationally alluded to the Micro Cinema sensor being a little better than the Pocket Cinema sensor. The big difference is adding global shutter, which eliminates a jello effect during shaky motion, at frame rates up to 30p. But the old and new sensors are spec'ed at the same dynamic range of 13 stops, which implies that low-light sensitivity won't be much improved. And when we're talking about the Micro Studio sensor, since it shoots in Ultra-HD, you've gotta think there are compromises by jamming more resolution into a sensor that's just one-half millimeter wider than the Pocket/Micro Cinema Camera's Super 16mm sensor. As I understand things, Blackmagic has previously offered 4K resolution in a Super 35mm sensor size (the Blackmagic Production Camera 4K, and the original URSA), and could only manage a natural ISO of 400 — after that, the rest is noise. Ultra-HD squeezed into the Micro sensor will be even less low-light sensitive at a natural ISO of merely 200. And what about aliasing artifacts when down-sampling to 1080p? Am I missing something?
BLACKMAGIC IS GETTING EXPENSIVE, AND YOU'VE GOTTA "RED-UP" TO GET THE URSA MINI ROLLING
When I say RED-up, most of you know what I mean. After all their testosterone about starting an indie revolution, RED cameras cost more than double the body price (not even talking about lenses yet) when you factor in media costs, batteries, necessary adapters, proprietary accessories and so on. The RED-ification of Blackmagic is underway with this sorta pricey URSA Mini, though you'll still hear their talking point that it's "modular." Firstly, unlike, say, the PXW-FS7, you have to buy a $1.5k viewfinder to fulfill the whole point of the URSA Mini's form factor — not so on the Sony. As for getting power (which is kinda necessary), you get nothing out-of-the-box other than a DC power input. If you want to mount a VLock battery, you're out another hundred bucks. Next, just to mount the camera on your shoulder, you'll need to buy a shoulder kit for four hundred bucks — and while you get a top handle too, there's no mention of the extender that Blackmagic themselves said is included, necessary to finish off shoulder mounting with the original handgrip in its right place. We're up to $7k at a minimum (you want that new 4.6k sensor, thinking of the negative reviews on last year's 400 ISO URSA 4k sensor being re-purposed for the cheapest Mini now); and that's before getting overpriced, mandatory CFast 2.0 cards which cost about $1k for 256gb of media (pretty limited space for high-bitrate UHD capture). From my perspective, it's $10k for a minimum shooting package. Sure, that's cheaper than what Canon and RED offer, but it ain't no indie revolution. Blackmagic is getting expensive.
LENSES ON THE EF-MOUNT URSA MINI WILL BE COMPROMISED
Blackmagic went with the Canon EF lens mount on their new URSA Mini (PL too, if you're in that rare elite class of five-digit lenses), rather than Micro Four Thirds. Filmmaking "professionals" are trigger-happy with the notion that auto-focus is evil, but sometimes it helps in a pinch (documentary running-and-gunning, flying on gimbals, etc.). Blackmagic has never accommodated auto-focus, and probably never will — the URSA Mini is no exception. Also, most Canon EF-mount lenses require electronic aperture control (or bust), and while that's in the URSA Mini specs, it's no sure thing. Lens incompatibilities with non-Canon bodies are notorious (ask Metabones), and no one ever mentions the image stabilization factor which doesn't go away just because you mount a camera on your shoulder: and, to the extent a Canon lens actually offers I.S., compatibility with the URSA Mini is a lens-by-lens question. I would have preferred an active Micro Four Thirds mount, like Blackmagic uses on their Pocket and Micro Cinema Cameras, but those lenses aren't big enough to cover the URSA Mini's Super 35mm sensor. And hell will freeze over before anyone other than Sony uses E-mount. Basically, we can expect to see lots of shaky footage with shallow focus hunting on the URSA Mini, because of this lens format compromise.
CONCLUSION (FOR NOW)
Does this all sound negative? Embarrassed disclosure: I leapt today the first chance I could, and pre-ordered all three. I see myself deprecating my beloved low-light workhorse A-cam at last, the Sony NEX-FS100, with this new URSA Mini whenever it arrives (not holding my breath for July). And, adding a second camera location with a matching look, I'll plunk down a Micro Cinema Camera (maybe pairing it with the auxiliary new Video Assist monitor). And when I'm Steadicam-ing around with my CAME-TV 7800 gimbal, I'll mount a Micro Studio Camera there for UHD capture, with my Atomos Shogun strapped to the top bar as usual for monitoring and recording. That said, all these issues bum me out. It was a good day for NAB razzle-dazzle, an OK day for indie filmmakers, and a bad day for bank accounts.
PRE-ORDER ROUND-UP
Blackmagic URSA Mini 4.6k Cinema Camera (EF-mount) ($4,995 delivered end of July 2015)
Blackmagic URSA Mini 4k Cinema Camera (EF-mount) ($2,995 delivered end of July 2015)
Blackmagic URSA Viewfinder
Blackmagic URSA Mini Shoulder Kit
Blackmagic URSA Mini V-Lock Battery Plate
Blackmagic Micro Cinema Camera ($995 delivered mid-July 2015)
Blackmagic Micro Studio Camera 4K ($1295 delivered mid-July 2015)
Blackmagic Video Assist monitor/recorder ($495 delivered mid-July 2015)
BLACKMAGIC CINEMA CAMERA USER GROUP
You're welcomed as always to join the User Group at Vimeo, on Facebook, on Twitter, and rounded up here at this site. Thanks for continuing to share your footage and interacting with this community.